Standard Features
Web-based admin panel (Super-Admin access)
Unlimited domains
Unlimited users
Private server - Full access
Free setup (online installer)
Sieve filtering, Auto responder
Offsite data backups
Geo-redundant dual backup MX
Realtime health metrics
99.95% uptime
WHMCS plugin
API access
Three webmails: SOGo, Afterlogic & Rainloop (50 MB att.)
Integrated webmail, calendar & contacts w/ Exchange ActiveSync
IMAP, SMTP (Premium Relay), POP, EAS support
Access to server logs & advanced server configuration
Anti-spam (AI) & anti-virus protection
IMAP migration & POP fetch tools
Standard DDoS protection
Geo-redundant dual backup MX
SPF, DKIM, DMARC support
Full support (L1/L3)
Custom branded private servers (RE-plans, upto CP: 4x) can be deployed in a few minutes using Mailcheap's online installer.
CP denotes relative compute performance of the mailserver(s).
Plans can be upgraded to higher tier CP: 4x servers.
WHMCS plugin: Provisioning (based on storage, number of domains/mailboxes/domain admins/domain aliases/mailbox aliases) module with creation/termination.
---
Premium Features
Cross datacenter solution
Active-Active redundancy
Instant Failover
Triple data replication
Custom branding for Reseller Premium requires nameserver update (DNS will be managed by Mailcheap; records cannot be edited).
Cross datacenter solution: keeps your service active & running even in case of an entire datacenter outage.
Active-Active redundancy: helps reduce failover time in case of a host/network outage.
Triple data replication: helps ensure data integrity at all times.
Premium Relay+: Enjoy higher sending limits and ensure near 100% deliverability to all major providers and ESPs through Mailcheap's multi-relay system which resends hard rejects.
Anti-spam (AI) & anti-virus protection: 4-step filtration process checks headers, mime and attachments for banned items, viruses and spam.
See features & infrastructure for more information and status to verify uptime stats.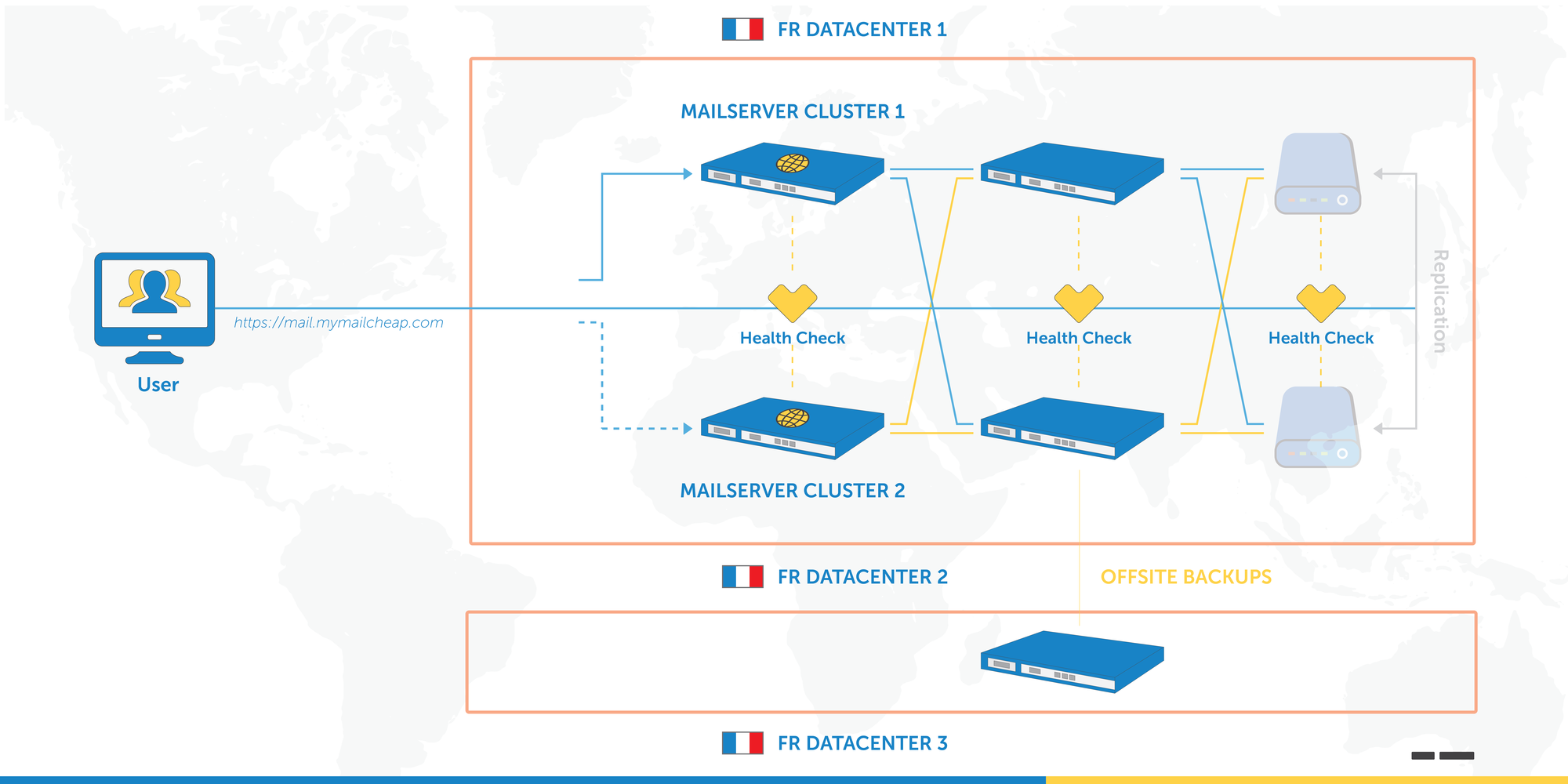 ---
Location Specific RE-plans
Dedicated mailservers (CP: 16x & above) are available in AU, CA, DE, FR, PL, SG, UK & US. View them in the order page.