Features
Web-based Admin Panel
Protection for unlimited mailservers or IPs
Filter training/learning
Rate-limiter for users & domains
User & domain blocking
SPF, DKIM, DMARC support
Realtime health metrics
99.95-99.999% uptime
Custom filter configuration
Access to server logs and log analysis
Quarantine management
Anti-spam & anti-virus filters
Header, Mime & Attachment filters
DDoS protection
Full support (L1/L3)
---
Carrier grade filters & SMTP Relays
Guaranteed deliverability
What are the main advantages of using Mailcheap's Dedicated SMTP relay service?
Ensure near 100% deliverability to all major providers and ESPs through Mailcheap's multi-relay system which resends hard rejects.
Powerful anti-spam and anti-virus outbound filtering to maintain IP reputation.
Easy to setup: Relay your mailservers via smarthost configuration or use policy-based routing (PBR) to protect entire networks. The solution is compatible with all modern MTAs like Exim (cPanel, Plesk, DirectAdmin), Postfix (Zimbra, iRedmail), Microsoft Exchage, SendMail, qmail, etc.
Easy to manage: Web based panel to authorize mailservers/netblocks, block users/domains, configure spam filter settings & rate-limiting, manage quarantined emails, view logs/log analysis, manage mail signing tools (SPF, DKIM, DMARC) and view realtime health metrics for both filter & relay.
The solution is designed as a pass-through relay service -to be used with your mailserver(s)- and hence cannot be used directly with email clients (MUAs/EMAs) like Thunderbird/Outlook/Sendy/Mautic et al.
---
Protect your email infrastructure and ensure reliable email delivery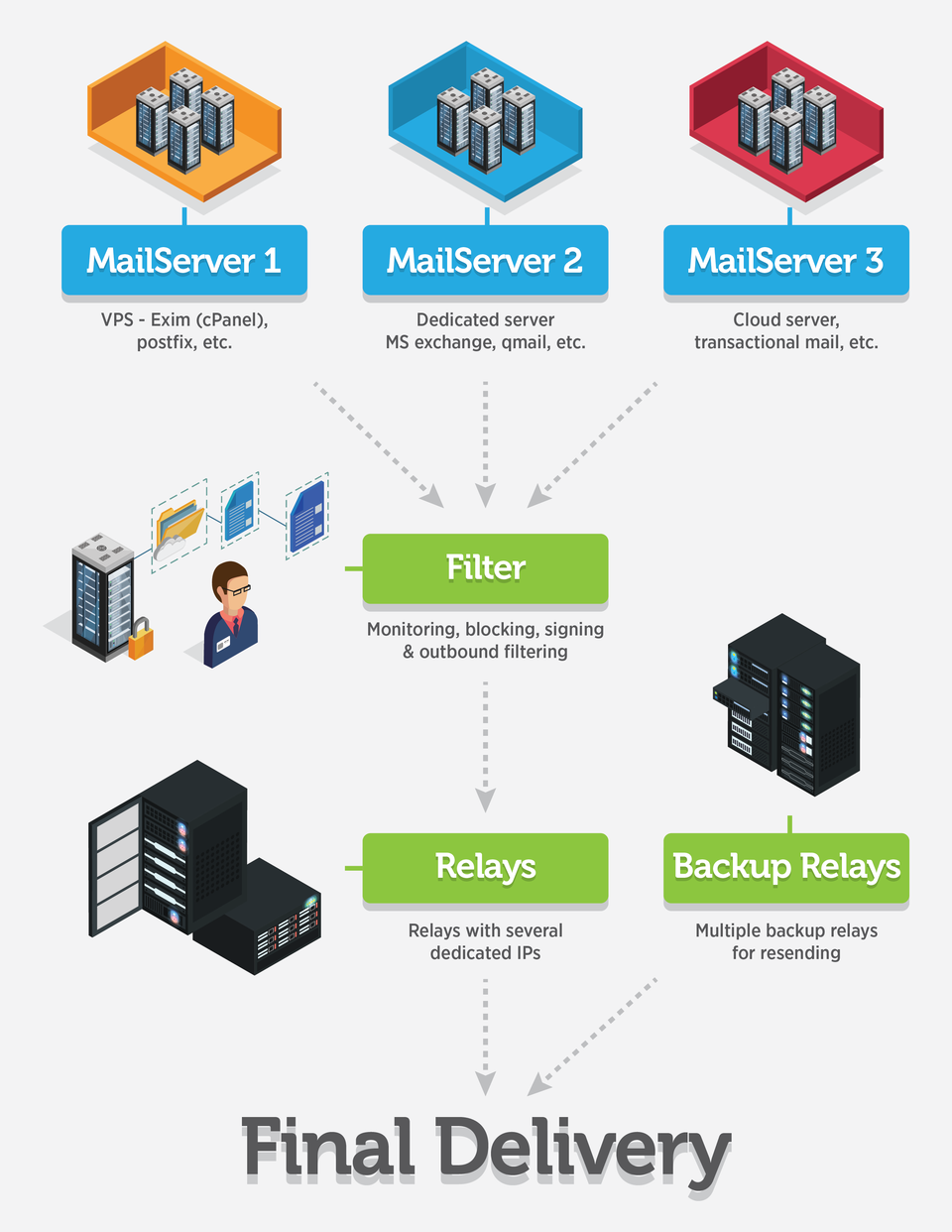 ---
Features
Fine-grained control over your outbound email traffic
Web based panel to authorize your mailservers & subnets.
---
Easily block offending users/domains.
---
Custom spam filter thresholds and configuration.
---
Apply rate-limit for users and domains in different timeframes (minute,hour,day).
---
View log & log analysis. Important metrics include messages received, delivered, forwarded, deferred, bounced & rejected and Per-day/Per-hour traffic summaries.
---
View realtime health metrics for both filter & relay.
---
Manage SPF, DKIM, DMARC signing.
---
Quarantine management and FP learning for filtered emails.